Shopping Basket
Your Basket is Empty
There was an error with PayPal
Click here to try again
Thank you for your business!
You should receive an order confirmation from Paypal shortly.
Exit Shopping Basket
A few questions we get asked at Baldivis Pet Services  
 10 Questions to ask your Dog walker/Pet sitter   
1. Do you have an up to date police check ?... :) yes we do ( would you care to look at it ?) 
2. Is your business registered ? ....Yes we are , we have an ABN too 13 689 762 474  
3. Are you insured ? ....Yes we are for 5 million public liability 
4 .what happens in an emergency ? ....We use the instructions you gave us on the meet and greet ,unless of course an animals welfare is a concern then we have to take the right steps vets etc  
5. How our my keys labeled and stored ? ....Pets Name/ securely 
6. what experience do you have with pets ? .....All staff have an array of experiance with animals from wildlife to Military dogs 
7. What happens if the temperature is hot hot hot for the pets ? ....:) we have steps to cool pets you will be informed all the way  
8. Do you know basic pet first aid ? .....Yes we do  
9.Do you let dogs off the leash.... No sorry we don't  
10. Why do you do this job ? .....because we love and care for all animals and wanted to give a great service to help people who were away working long hours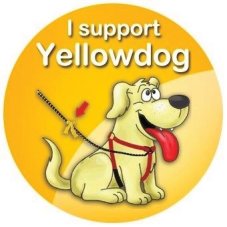 The Yellowdog Yellow Ribbon Campaign
Does Your Dog Need More Space? Around the year 2000 Australian dog trainers recognized the need to protect dogs that needed a little more space! These clever trainers used yellow ribbons or bandannas to indicate that a dog needs space. Why do some dogs need more space? •
An older dog may be in pain from arthritis, another may have discomfort following surgery.
Recently adopted dogs may feel scared in new surroundings and need more time to adjust to their new life
 A bitch may be in season
  Some dogs just don't want other dogs in their personal space
  Some dogs that have been attacked just don't want another dog in their face
 An over-excitable dog may need more space while being trained
The Yellowdog Yellow Ribbon campaign was launched in Sweden some 8 months ago after trainers there heard about dog clubs in Australia using yellow to protect their dogs.
The Swedish trainers decided to adopt the idea of the yellow ribbon to educate dog fanciers and the general public about the meaning of the yellowribbon to help assist those dogs that from time to time needed more space. The Campaign has now spread world-wide to 19 countries: http://www.gulahund.se/default.asp?sida=Yellowdog_from_the_beginning Even small children can learn that the yellow sign means: Please, Stay Away! If your dog has behavior problems you should contact a qualified, ethical Dog trainer or your vet for referral to a veterinary behaviourist. This Campaign has the support of Veterinary Behaviourists. 
Yellowdog Australia: Pat Robards Australian Campaign Leader Telephone 02 43682244 Email:
[email protected]
Website: Yellowdog Australia
/